In this case, you can check in or check out your attendance via the Talenta Web. You can access the Web version of Live Attendance through hr.talenta.co.
However, before you can use this feature, you need to activate it first by contacting the support team at email support-hr@mekari.com or clicking here for more explanation.
The following is the appearance of the Web version of the Live Attendance menu: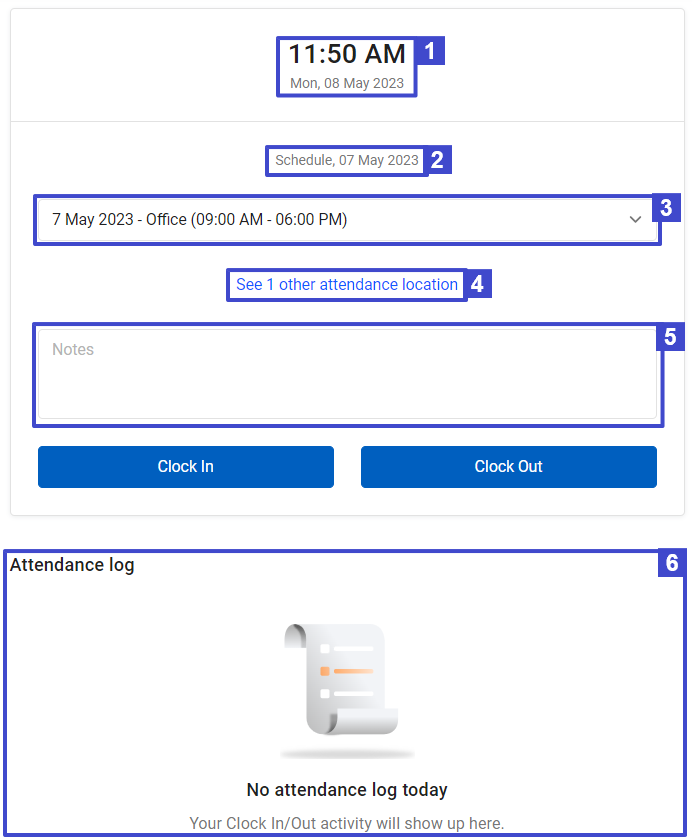 No
Appearance
Description
1.
Display Time & Date
Shows the current time and date according to the time zone setting on your laptop or PC.
2.
Schedule
Displays the work schedule for the day in question.
3.
Shift bars
If there are multiple shifts, select the appropriate shift.
4.
See x other attendance locations

Displays a list of work locations, if employees are registered in more than 1 location.

If you are absent outside the registered location radius, you can still clock in or clock out, but it will be processed as an attendance request and requires approval from superiors (approval can only be done if the setting is in the backyard for Live Attendance Approval = ON, if it is OFF then only the "Out of radius" validation appears . Contact support for more information)

5.
Notes
Fill in the information related to attendance data
6.
Attendance Log
displays a history of check-in or clock-out activities on the day in question.
Here are the steps for Check In or Check Out via Talenta Web:
On the Dashboard Menu click "Live Attendance".



You can also access the Live Attendance button through the My Info menu on the Time Management Tab, then select Attendance. However, if you log in to Live Attendance via the mobile web, you will immediately be presented with the Live Attendance page so all you have to do is click Clock In or Clock Out.

Fill in notes if necessary, then click the button "Check in" or "Check Out" on the Live Attendance page.



- The web version of Live Attendance can be performed by companies that have an overnight schedule.
- The web version of Live Attendance can be implemented by companies that have attendance settings with Single/Multiple clock-in or clock-out.

You can see a list of check-in or check-out history on that day through the Attendance Log.

Click "Details" on the Attendance Log to view your login details.

You can view attendance information accessed through the mobile web or mobile apps through the Mobile Attendance Report Menu.



- When you use a VPN, the timesheet location will follow the VPN server.
- If there is a problem with the level of accuracy of the maps, you can try changing to a more stable connection or using another browser such as Firefox.
This is an explanation of how to manage the Live Attendance feature on the Web version. To learn more about Live Attendance features, click here.