The dashboard is the start page of Talenta after you have successfully logged into your Talenta account. This page displays various important information that employees generally need to monitor on a regular basis, along with buttons to access features that can assist in managing routine activities.
Here is the appearance of the Talenta Dashboard: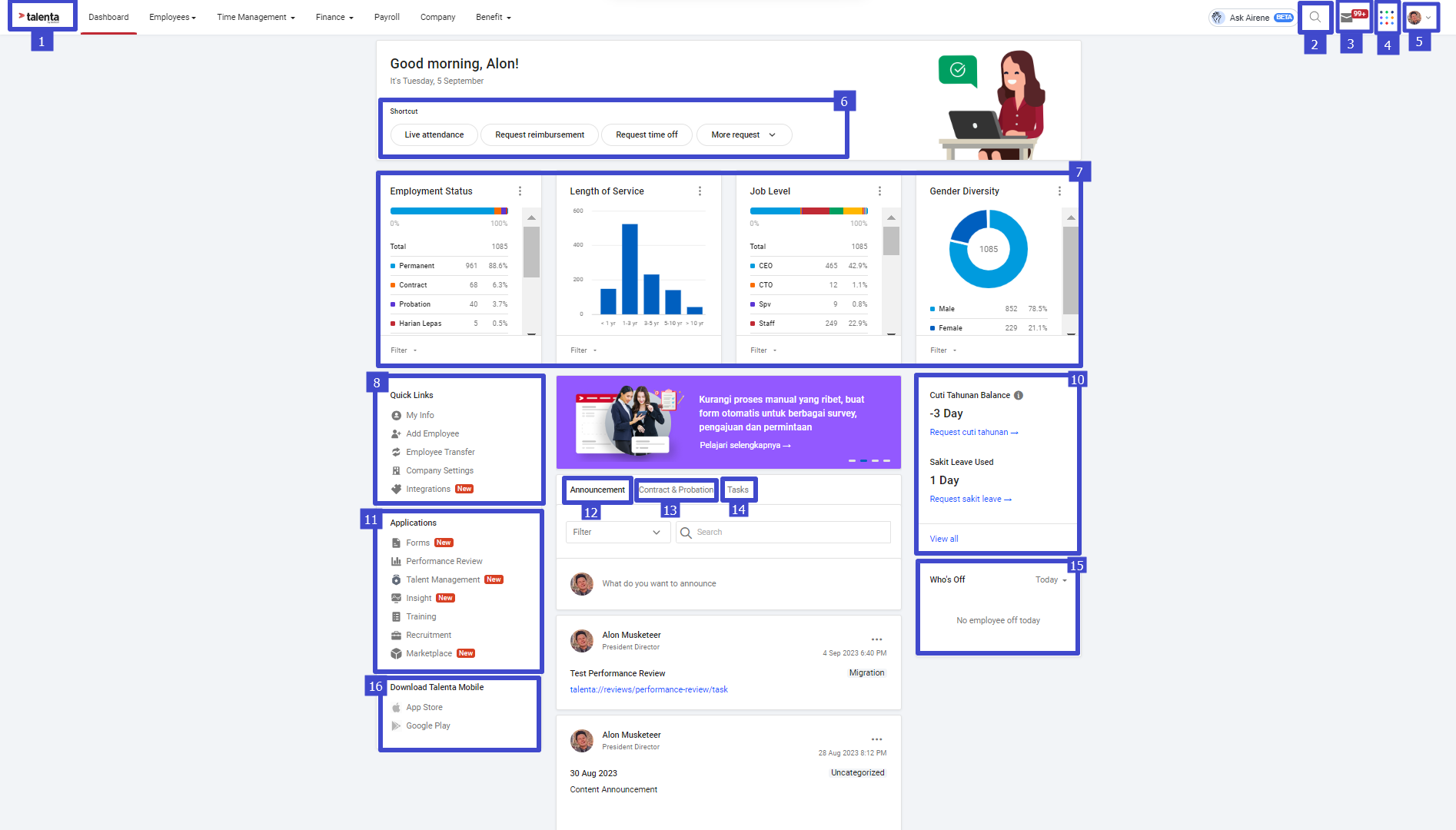 No
View
Description
1.
Company Logo
Shows the company logo. Click to change the logo. If the employee is registered at the branch, the logo will adjust to the branch logo.
2.
Search Employee
Speed up to access my info based on employee name.
3.
Message
Shows all messages, requests from other employees that must be processed, and other notifications from the system.
4.
Mekari's Apps
Shows other Mekari products that can support your business..
5.
Profile Picture Icon
Shows the name of the currently logged-in user. In this section there is a menu:


User Name: To enter my info
Account Settings: To enter the settings menu
(Generally, this menu is only accessed by the Talenta specialist team).
Company Setting: To enter the company settings menu (generally this menu is only accessed by the Talent specialist team).
Help: To enter the Talenta article page.
Need Support?: To bring up the chat.
Sign Out: To sign out of your company account.

6.
Shortcut
Speed up to access certain features:


Request Attendance: Navigate to the Employees menu >> Time Management >> Attendance
Request Reimbursement: Navigate to the Employees menu >> Finance >> Reimbursement
Request Time Off: Navigate to the Employees menu >> Time Management >> Time off
More Request

Cash Advance: Go to the menu Finance >> Cash Advance
Overtime: Navigate to the Employees menu >> Time Management >> Overtime
Change Shift: Go to the Employees menu >> Time Management >> Attendance

7.
Chart

Shows graphs of various information recorded in the Talenta system.

Users can change the appearance of the chart to get information about Employment Status, Length of Service, Job Level, and Gender Diversity in the Talenta system.


8.
Quick Links

Speed up to access some specific features:

9.
Mekari Teaser
Shows information about Talenta new features.
10.
Balance Time Off
Shows the remaining balance of leave or permission owned. Leave that is determined to have an unlimited balance will not appear in this column.
11.
Applications

Shows additional applications provided by Talenta which are generally referred to as non-core applications.

12.
Announcement
Shows a feature for managing announcements given to all employees in the company.


Filter announcements based on their category by clicking "Category".

13.
Contract & Probation
Shows a feature for managing status changes for employees who have reached or are nearing the end of their probation or contract.


Settings to determine when this notification will appear on the dashboard can be made on the Settings menu.

14.
Task
Shows a feature for managing assignments to an employee at the company.
15.
Who's Off
Displays all names of employees who are currently taking leave for a certain period.
16.
Download Talenta Mobile

Show Talenta applications:

App Store: Navigate to the app store to download Talenta mobile iOS
Google Play: Navigate to Google Play to download the Android version of Talenta mobile
This is an explanation of the Dashboard menu. You can also do other things on the Dashboard menu such as Managing Announcement Features from the Dashboard, here.