When doing Live Attendance on Talenta Mobile, a selfie that meets certain criteria is needed to do online attendance. One of the features that can detect the criteria for certain living things is Liveness Validation on Talenta. This process is useful for ensuring that there is no fraud when employees take attendance directly by detecting whether the selfie taken is a real face or not.
Liveness validation uses the face occlusion function which can assess the structure and feature algorithms on the face, such as the following facial features.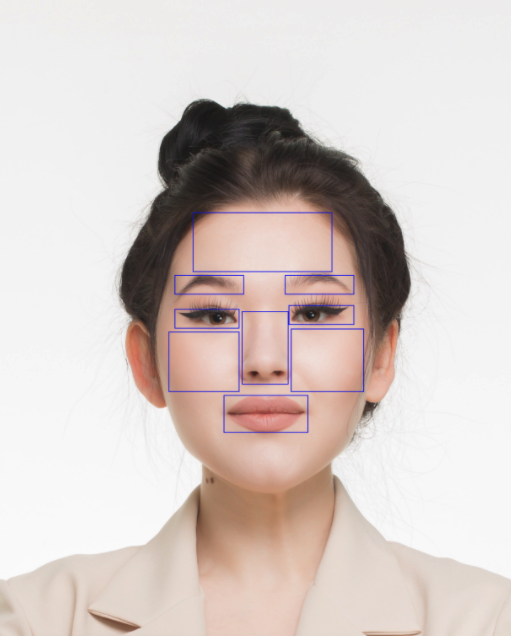 Therefore, if an object is found that is blocking that part of the face, then the selfie results of your face will not be identified optimally and will most likely be accepted by the system.
The following is an example of a selfie case that will be accepted and rejected by the system.
A. Examples of comparison cases accepted and rejected
| | | | |
| --- | --- | --- | --- |
| No. | Case | Be accepted | Rejected |
| 1 | Wearing Hijab | All facial features such as the forehead, eyebrows, eyes, nose, right and left cheeks, and mouth are clearly visible. | Facial features such as the forehead and eyebrows are covered by the hijab. |
| 2 | Eyeglasses | The glasses worn do not block facial features such as the eyes, eyebrows, and cheeks. In addition, the lighting in the room is clear. | Glasses that are worn in a room with low light make the reflection of the cellphone screen cover the eyes. In addition, the eyebrows are not clearly visible. |
| 3 | Hair on forehead | Even if half of one eye and eyebrow are covered by hair, selfies like this can still be recognized by our system although they should be avoided. | Facial features such as the forehead and eyebrows are completely covered by hair. |
| 4 | Cases with faces blocked by objects | A little part of the cheek is covered by one finger, but other facial features are still clearly visible. | One side of the face is entirely covered by the hand. |
B. Rejected case examples
No.

Case

Rejected

1

Stylish glasses case and face paint/tattoo


Cases of faces with face paint or tattoos.


Upper facial features are obscured by reflective or dark-style glasses.

2

Use cases of face masks


Wearing a face or mouth pattern mask.


The lower facial features are covered by a mask.
This is the Liveness Validation selfie guide on Talenta Mobile. To learn more about how to use Liveness Validation in Live Attendance, read here.