A timesheet is a menu used to manage functions related to task monitoring settings assigned to employees. You can access the Timesheet menu by clicking on the dashboard by clicking on the main menu at the top.

Users who can monitor employee productivity and export timesheet summary data in Excel form are Super Admin, Admin, Approval Line, and By Job Position. Users can also find out how long employees need to work on the Time Tracker tab.


The following is a brief explanation of the Timesheet menu: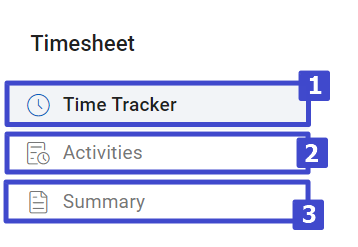 | No. | Column | Explanation |
| --- | --- | --- |
| 1. | Time Tracker | Tab to add a time tracker for tasks assigned to employees. |
| 2. | Activities | Tab to see the activity of the currently running task. |
| 3. | Summary | Tab to see the results of the time tracker that has been made. |
Furthermore, on the Timesheet menu, you can also see a summary of the time trackers that have been carried out. In this feature, you can see a report on the results of the calculation of the task completion time.