On the Time Management tab, there is an overtime tab option which is the tab used to manage your overtime data. However, the company or super admin needs to set the overtime policy beforehand.
1. Overtime Tab display
You can see a brief explanation from the Overtime tab as follows: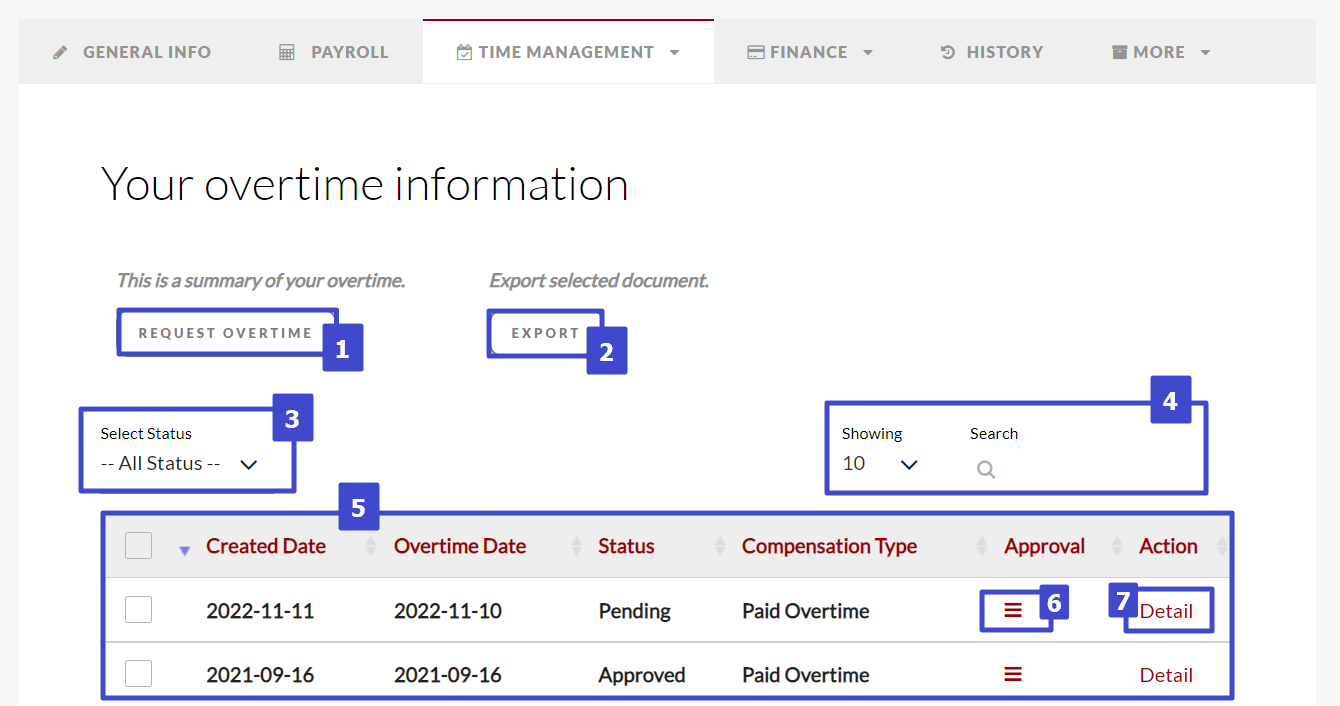 | | | |
| --- | --- | --- |
| No. | Column | Explanation |
| 1 | Request Overtime | Button to apply overtime. |
| 2 | Export | Button to export selected overtime data. |
| 3 | Select Status | Set the display and search for employee overtime submission data based on the selected status (pending, approved, rejected, canceled). |
| 4 | Showing & Search | Set the display and search for employee overtime filing data based on keywords or the options provided. |
| 5 | Employee Overtime Table | Displays a list of employee overtime submissions. |
| 6 | Approval | Click to display details of the approval of the overtime you are proposing. |
| 7 | Detail | Displays detailed employee overtime approval information. |
2. How to Apply for Employee Overtime
Follow these steps to apply for employee overtime:
Click the Time Management tab and select Overtime.

Click the "Request Overtime" button.

Fill in the date of overtime submission in the Request Date column.

Select the type of compensation for overtime replacement in the Compensation Type column.

Enter the overtime duration in the Overtime Before/Overtime After Duration column and fill in the rest duration during overtime in the Break Before/Break After Duration column if necessary.



- Overtime Before Duration: The duration of overtime submitted before working hours begins.
- Overtime After Duration: The duration of overtime submitted after working hours ends.
- Break Before/After Duration: Break duration during the proposed overtime.

Complete the reason for submitting overtime in the Description column then click "Submit" to continue.

You can also apply for overtime via Talenta Mobile. Apart from that, through Talenta Mobile, you can also see the overtime history that you have applied for before.