Liveness Validation in Live Attendance is a feature that can detect whether the selfie taken is a real face or not. This process is useful for ensuring that there is no fraud when employees take attendance directly by detecting whether the selfie taken is a real face or not. Unlike face recognition , Liveness Validation can distinguish which is a real face or an artificial face image.
Important
Before you can use this feature, you need to activate it by contacting the support team via email support-hr@mekari.com. Then, there will be several inquiries that you need to do to set up this feature, click here to read the guide. Employees must first have a profile picture on their Talenta account to use this feature. For better effectiveness of the Face Recognition feature, make sure your Talenta Profile Picture meets the following criteria: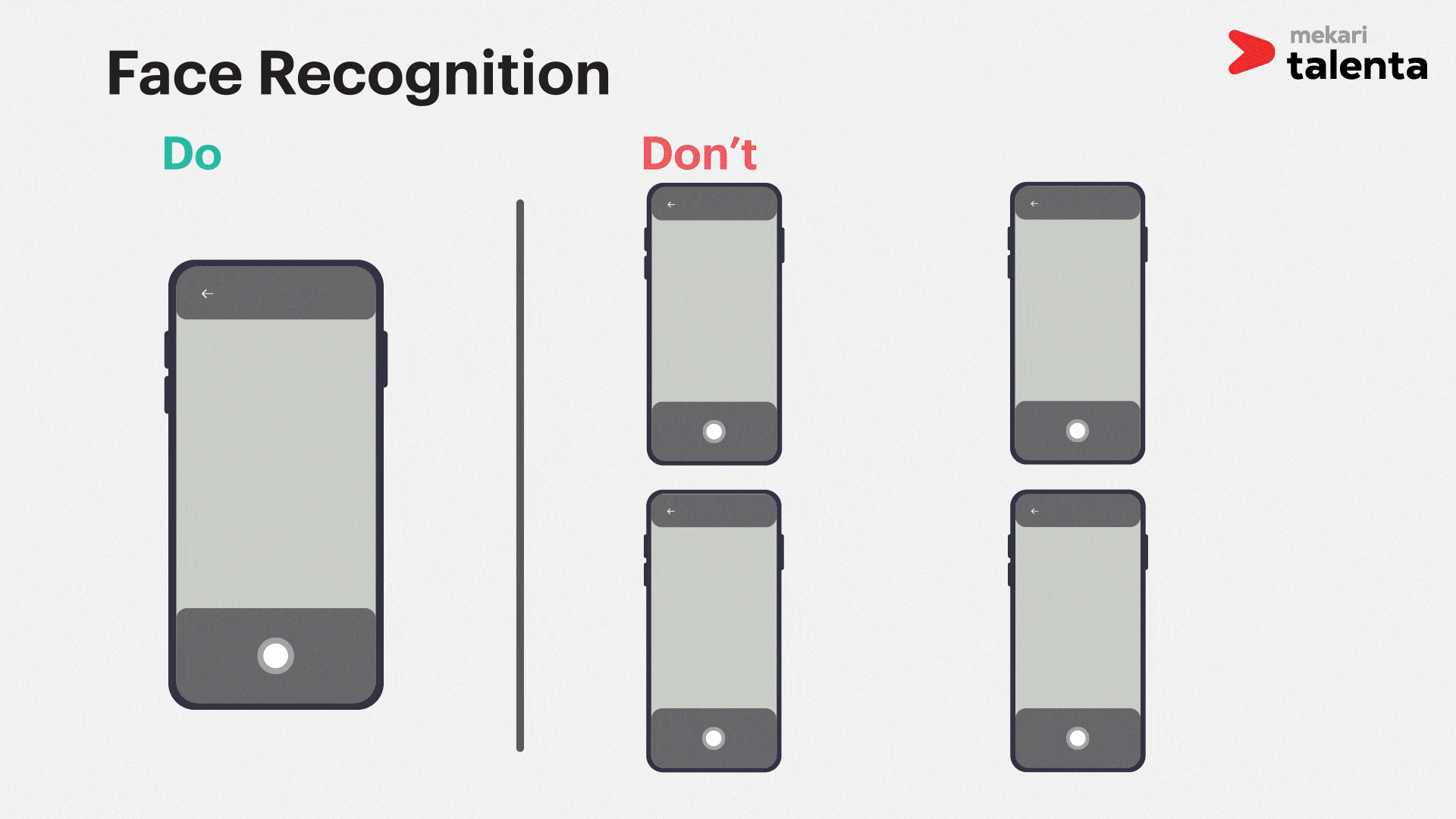 Here is a guide for using Liveness Validation on Live Attendance:
Enter Talenta Mobile.
Click "Live Attendance".


Click "Clock in/out".



If your company implements rules for taking breaks with Liveness Validation, then you can slide the "coffee cup" icon to the right.

Then, slide the "left arrow" icon to the left to stop ending the break. You can also see the duration of your break on the displayed timestamp.


Take your selfie photo showing all parts of your face according to the criteria below.

If your photo doesn't meet the Liveness Validation criteria, you'll receive the following message:


| | | |
| --- | --- | --- |
| No. | Error Message | Meaning |
| 1. | Please retake the actual selfie of your face. | Your photo has been detected as not being alive. |
| 2. | If your selfie doesn't match the profile photo, please retake your selfie. | Your photo doesn't match your profile picture. |
| 3. | Please retake the actual selfie of your face. | Your photo is judged to be low quality, blown out, or dark. |
| 4. | Please remove accessories on your face and take a selfie. | There is an object blocking your face so that the photo of your face cannot be accepted. |
| 5. | Please take a selfie containing one face image. | There are multiple faces so you need to take a new photo with only one face. |
| 6. | Please move closer to the camera and take your selfie. | Your face is too far from the camera so you need to re-take your photo. |

Enter notes and click "Clock in/out".



Make sure the selfie photo matches the profile photo on the Talenta account. You can take your photo by clicking the "-" icon on your photo.

There are several display notifications that you might get after clock-in/out on Talenta.

Clock in successful
If the attendance is successfully inputted to Talenta system, you can see the details of attendance information as shown below. Click " Back to home" to return to the Talenta Mobile home page.


Image verification


If after taking an attendance photo, you are then directed to the Image verification display, it means that the system failed to detect your photo. Therefore, to minimize this in the future, you can do Image verification by clicking "Upload selfie" to take a photo. After that, you can do the attendance again.

Attendance in progress
- If you get a display after you clock in/out as shown below, the system is processing your attendance verification because there is high traffic during work hours. This process lasts for a maximum of 15 (fifteen) minutes. Click "Okay" to return to the main view.

- Then, in your main view it will look like the following. You can see a yellow box informing you that the system is verifying your data.



You can click on the yellow box if you want to confirm your attendance status. Attendance status In progress indicates that the system is still in the verification process.

When the Attendance status is still "In progress", you cannot re-clock in/out. This is because your data is still in the validation process.

If your Attendance status is In progress, then after a maximum of 15 (fifteen) minutes you will get the following push notification :

Clock in verified data
Clock in data verified indicates if your data has been successfully verified by the system.

Therefore, you can click on the notification and you will be directed to the details of your in/out.

Clock in/out pending
Clock in/out pending indicates that your attendance needs approval from the Admin/manager. This is because there is a data discrepancy in your Talenta archive, such as an inappropriate location, an inappropriate face, or your liveness verification failed. Click on the notification to open the attendance details.

Then, you can contact the Talenta Admin/manager at your company to match the data and attendance details below.

Other than that, a Pending status will be tagged on your break submission if the location is not suitable to what has been set. Therefore , you need to wait for your manager to approve the break.


This is the guide for using Liveness Validation on Live Attendance. Furthermore, you can learn the Selfie Liveness Validation Guide on Live Attendance Talenta here.