After you log in to Talenta Starter, the first page that will appear in the Dashboard. This page displays various important information that employees generally need to monitor on a regular basis, along with buttons to access features for managing routine activities.
The following is a brief explanation of the Dashboard view on Talenta Starter: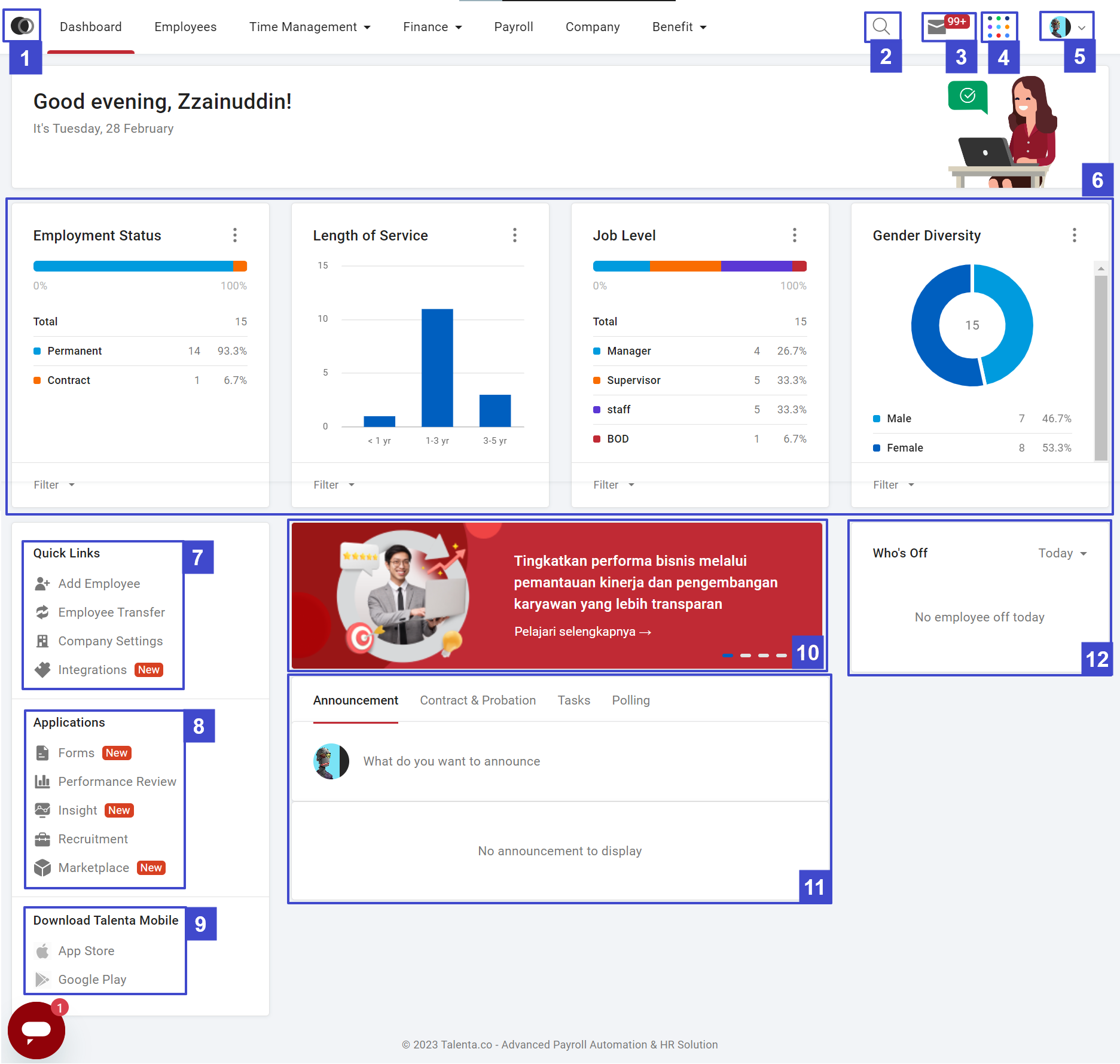 No.
Section
Description
1.
Company Logo
Displays the company logo. Click to change the logo. If the employee is registered at the branch, the logo will conform to the branch logo.
2.
Search Employees
Speeds ​​up to access my info based on employee name.
3.
Message
Displays all messages, requests from other employees that must be processed, and other notifications from the system.
4.
Other Apps by Mekari
Displays other applications from Mekari (Mekari Jurnal, Mekari Klikpajak, Mekari Qontak, Mekari Flex, and Mekari University)
5.
Profile Picture Icon
Displays the name of the currently logged-in user. In this section there is a menu:

User Name: To enter my info.
Company Name: For the switch company if any.
Account Settings: To enter the settings menu
(generally, this menu is only accessed by the Talenta specialist team).
Company Setting: To enter the company settings menu (generally this menu is only accessed by the Talenta specialist team).
Help: To enter the Talenta article page.
Sign Out: To exit your company account.

6
Employee Insights
Contains graphs of employee data in the company, namely Employment status, Length of service, Job level, and Gender diversity.
7.
Quick Links
Speeds ​​up to access certain features:

My Payslip: Navigate to the Employees menu >> Payroll Info.
Add Employee: Navigate to the menu Employees >> Add Employee. Used to input new employee data.
Employee Transfer: Navigate to the Employee menu.
Company Settings: Navigate to the menu Settings >> Company.
Integrations: Navigate to the menu Settings >> Integrations.

8.
Applications
Displays a list of applications or additional features on Talenta, namely:


Training
Advanced Recruitment
Marketplaces

9.
Download Talenta Mobile
Shows Talenta applications

App Store: go to the app store to download Talenta mobile IOS
Google Play: navigate to Google Play to download the Android version of Talenta mobile

10.
Banners
Displays a sliding banner from Talenta.
11.
Timeline

Displays certain information that may be posted by the company:

Announcement: Displays announcements from the company to employees as a whole.
Contract & Probation: Displays a detailed list of employee contracts and probations.
Tasks: Displays employee tasks.

12.
Who's Off
Displays all names of employees who are currently taking leave in a certain period.
This is Talenta's dashboard overview. Next, learn about Talenta Starter Onboarding here.