The Message menu is a menu used to manage all messages received, submissions that must be approved, and other notifications from the system.
The following is a brief explanation of the Message menu: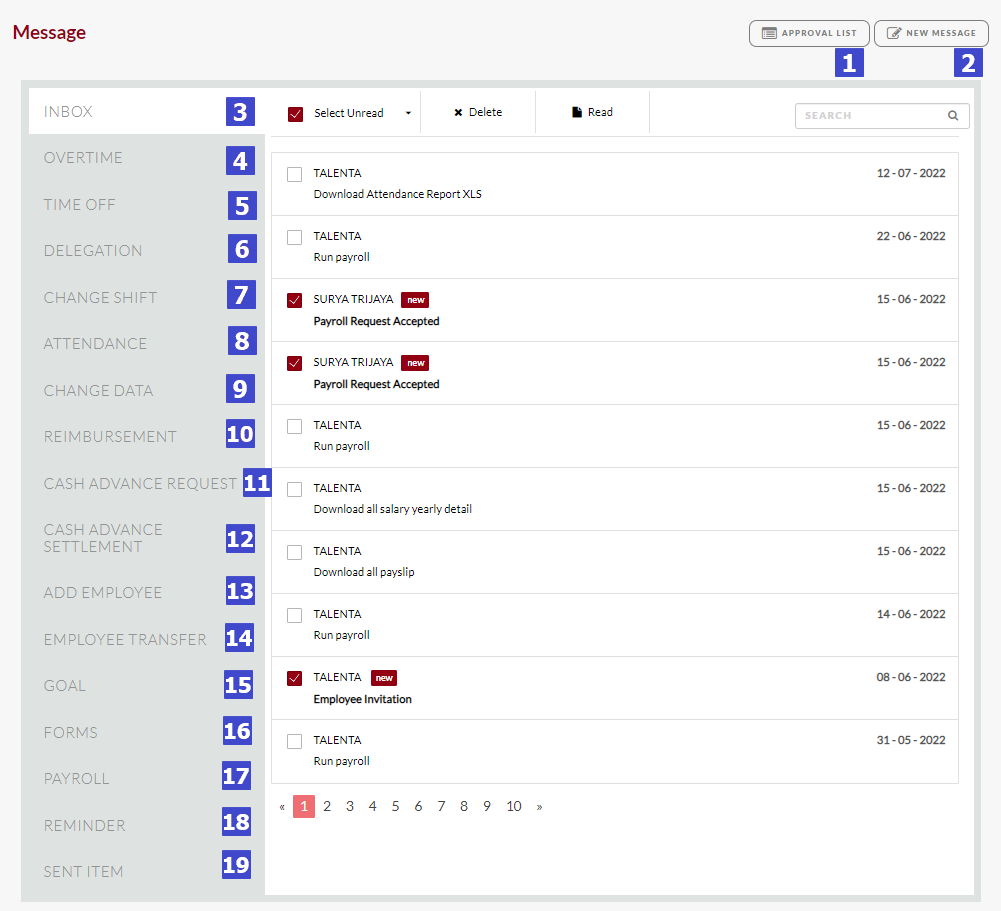 No.
Tab Name
Explanation
1
Approval List

Show a list of requests for overtime, leave, delegation, shift changes, absences, reimbursement, etc. that you must approve.

Click "Approval List" to filter only messages awaiting your approval.

2
New Message
Create a new message to send to other employees.
3
Inbox
Manage incoming messages sent by other employees and notifications from the system.
4
Overtime
Manage messages regarding overtime requests.
5
Time Off
Manage messages related to leave requests.
6
Delegation
Manage messages related to delegation requests.
7
Change Shift
Manage messages regarding shift change requests.
8
Attendance
Manage messages related to submitting absences.
9
Change Data
Manage messages related to the submission of data changes.
10
Reimbursement
Manage messages related to reimbursement submissions.
11
Cash Advance Request
Manage messages related to cash advance applications.
12
Cash Advance Settlement
Manage messages related to cash advance settlement submissions.
13
Add Employee
Manage messages about submitting new employee additions.
14
Employee Transfer
Manage messages about employee transfer requests.
15
Goal
Manage messages about submitting goals submitted by employees.
16
Forms
Manage messages about submission form submissions.
17
Payroll
Manage messages about applying for payroll access.
18
Reminder
Manage messages related to automatic reminders on the Talenta system.
19
Sent Item
Manage outgoing messages sent to other employees.
That's an overview of the Message Menu on Talenta. To learn how to manage Approval List on the Message Menu on Talenta, click here.